When it comes to choosing a professional wardrobe, it can be overwhelming.
There are endless options for women's business attire, from suits to separates, dresses to pants. But fear not! By focusing on a few key pieces, you can create a versatile and stylish wardrobe.
The Business Chic Essentials:
The Classic Blazer - A fitted blazer is a timeless piece that instantly elevates any outfit. A blazer can be worn over a blouse and dress pants for a traditional business look, or over a simple dress.
The White Shirt - A white shirt is a wardrobe staple that can be dressed up or down.
The Pencil Skirt - A pencil skirt is a classic piece that can be worn year-round. Look for one just above the knee, and in a neutral color like black or gray. A pencil skirt can be wornwith a blouse and blazer.
The Dress Pants - You need a pair of fitted and flowy pants. It is a must-have for any professional wardrobe. It should be made from a high-quality fabric like wool or a wool blend. Dress pants can be paired with a blouse, blazer, sweater or blouse.
The Sheath Dress -Look for a classic style that hits at or just above the knee, in a neutral color like black or navy. A sheath dress can be worn alone or layered with a blazer or cardigan for a more conservative look.
By starting with these five essential pieces, you can create a professional wardrobe that is versatile and stylish.
You can mix and match them for endless outfit options!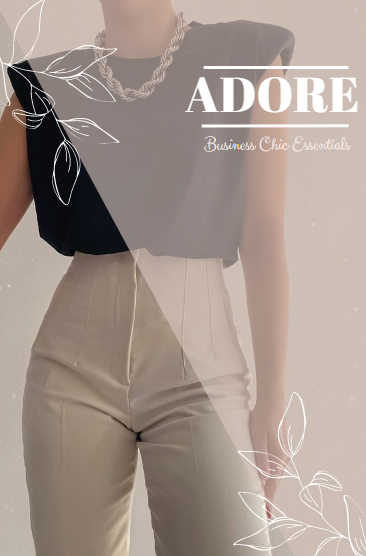 Remember to choose high-quality pieces that fit well and make you feel confident and comfortable, and will last a long time.
Business Chic Essentials, ADORE.